3rd February 2023
Another sell out run after a long break due to Covid. We had wonderful feedback from so many people and it was remarked upon how good it was to see so many new faces and talented young singers and dancers. We had a great time putting on the show and our legendary ORANGE BUCKET collections […]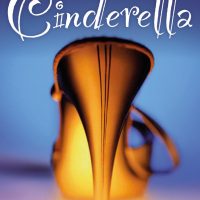 26th June 2017
In January 2018, Lambeg Players will perform another spectacular panto called Sinbad. Like last year's sell out Babes in the Wood, this show will have all the hilarious elements you have come to expect from a Lambeg Panto. Tickets go on sale in October. Book early.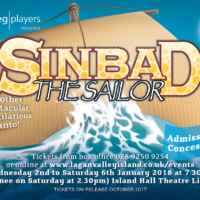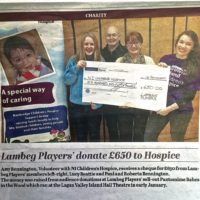 8th February 2017
This season we are reviving one of our old favourites WIDOW'S PARADISE which is the hilarious play set in a caravan. We start in Belvoir in May 26th and 27th. We will do our normal slot in Portrush Summer Theatre at end of August and hope to also do Ballyearl.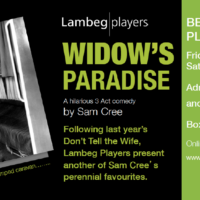 1st February 2017
Our Panto in January 2017 was a huge success. Our traditional exit "orange bucket" collections on the Friday and Saturday night raised £1300 which we divided between our two chosen charities the Northern Ireland Children's Hospice and Alzheimer's Society.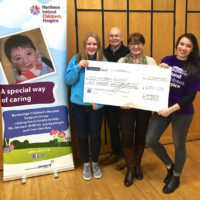 16th December 2016
On Thursday 15th December, Lambeg Players sang carols in Bow Street mall in Lisburn and raised £235 in 90 minutes. The proceeds go to local charity Stepping Stones. Stepping Stones is an award winning charitable organisation providing a range of services and social enterprises that support people with learning disabilities and learning difficulties to realise their […]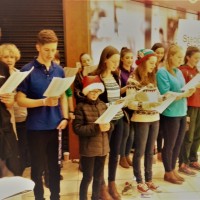 25th August 2016
For January 2017 at Lisburn's Lagan Valley Island Hall theatre, Lambeg Players will be presenting BABES IN THE WOOD. This will be a hilarious panto following hot on the heels of Jan 2016's major hit Jack and the Beanstalk which played to full houses and raised several thousand for local charities. Babes in the Wood […]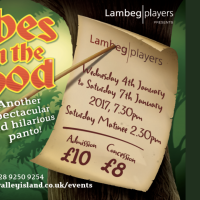 11th January 2016
Long time fan of Lambeg Players James Currie went to our show and reviewed it on his blog. Read it at this link. http://www.jcbelfast.co.uk/lambeg-players-panto-2016/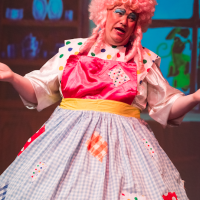 16th November 2015
Lambeg has been making its mark in BT9 with this article promoting our Jack and the Beanstalk panto in January.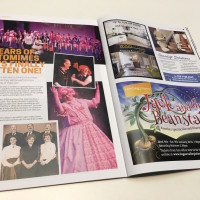 16th July 2015
Our esteemed President Clifford Boyd OBE passed away on 7th July 2015. He was in his 93rd year. Clifford started Lambeg Players in Harmony Hill Presbyterian Church in 1966. Over the years he produced many plays and pantomimes and latterly served as President of the Drama Club chairing committee meetings and AGMs for many years. […]